Driving Impressions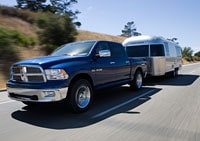 The powerful Hemi V8, with variable intake valve timing, is rated at 390 horsepower and 407 pound-feet of torque, and delivers a wide powerband. Match the engine's power with the truck's clean aerodynamics and one result is that the Hemi's Multiple Displacement System (MDS) operates fairly often, enhancing fuel efficiency. The MDS essentially shuts off half the engine when not needed to save gas, and Chrysler says the Ram can be run past 70 mph with the MDS active. With the Hemi the Ram is among the most powerful of the full-size half-ton pickups.
Although the Ram's 4.7-liter V8 scores basically the same EPA numbers as the Hemi, it will realistically get better mileage; you can't use the Hemi's 80 extra horsepower without using more gas. The 4.7 feels the smoothest and is the quietest engine in the Ram line. It uses the same five-speed automatic as the Hemi.
The 3.7-liter V6 provides 215 horsepower and 235 pound-feet of torque. This is adequate for trucks that don't tow more than a garden tractor or routinely carry around landscape, handyman or pool service equipment. Although it comes with only a four-speed automatic, proper axle gearing (we'd recommend the 3.92:1 ratio) makes it livable and able to merge at highway speeds.
Transmissions work as expected with modern, electronic-authority automatics. If you wish to select a gear manually use the thumb toggle on the column-mount stalk or slide the floor shift left for downshifts and right for upshifts. To revert back to full automatic control, simply hold the toggle on the column shifter or push the floor shifter right for about one second.
A Tow/Haul mode is standard and is useful when towing. Activating Tow/Haul may take the truck out of top gear but it does not lock it out; you can still cruise in overdrive with tow/haul on. The Tow/Haul mode keeps the transmission cooler when towing by holding gears longer (and reducing hunting between gears) and shifting faster (and harder).
The 4WD systems have a 48/52 nominal torque split (a slight rearward bias to power delivery), 2.72:1 low range for climbing or steep descents, and are electrically shifted from 2WD to 4WD without stopping; engaging low range is done most smoothly rolling at about one-two mph with the transmission in Neutral. The 4WD systems have a Neutral position for flat-towing a Ram behind an RV or heavier construction truck. Two 4WD systems are available, and one has an Auto mode that allows 4WD-on-pavement use for inclement weather. This system will only help you accelerate and turn under power, it does not help you stop or change directions to avoid something.
We found the brakes work well. Antilock and stability functions are standard so all you need to do in evasive maneuvers is push the pedal and steer. In daily driving they deliver good feel and are easy to modulate, and although they handle the truck well we'd advise trailer brakes on any trailer more than 1500 pounds (less if your state requires it, of course).
A Ram will never a racecar make but it benefits the same as a racecar when weight is removed from the suspension, axles, brakes and wheels. Using aluminum in some protected front suspension pieces takes 10 pounds off each corner, and the coil/link rear suspension takes 40 pounds off the back and allows more precise wheel control. In addition, friction in the rear suspension as it moves up and down has been cut by 60 percent, so the rear axle is allowed to travel more up and down yet requires less stiffness to keep it controlled.
The Ram rides very well and in comparing it to the competitors it comes across as the best blend of ride and control, whether you're on 17-inch wheels or the big 20s. It goes where you point it without drama, the rear end feels less inclined to step sideways over a mid-turn bump or invoke the stability control, and the Ram has a feeling of good directional stability with a trailer in tow. Steering is direct, but the effort is low during maneuvers and cruising, and it increases nicely as you push the truck harder. Body roll is kept in check by stabilizer bars at both ends, yet a small amount is apparent as you turn the wheel just to keep you aware; too much roll stiffness increases ride harshness. In sum, the whole truck exhibits less of the shuddering typical of body-on-frame designs used on all full-size pickups and some big SUVs.
Off the highway the suspension offers good articulation, and keeping the wheels on the ground longer always works best. We had no issues with suspension pieces dragging or being vulnerable to rock or stump impacts. And while we didn't have a sand box handy we could not invoke any axle hop even from full-throttle standing starts in a field. Our only complaints in off-road travel are that close-in visibility suffers from the big hood, making it harder to judge the corners through rocks or trees, and the wide A-pillar base may present its own visibility issues. Also, there's little compression braking in high-range. The only apparent drawback of the suspension design is that the optional larger fuel tank is perhaps smaller than it might be otherwise, offering just six gallons more than the standard tank.
The Ram felt smooth and quiet, even on the 20-inch wheels. To our ears the Ram has the competition covered, but every ear has its preferences and many pickup owners like noise.
Payload, or how much weight in cargo and passengers a truck can carry, varies by cab, bed, drive wheels, and engine. Ram payload ratings run from 1340 pounds (for a 2WD regular cab, short bed, 4.7-liter) to 1860 pounds (for a 2WD regular cab, long bed, V6) and that's for trucks without options; if you routinely carry more than 1000 pounds of cargo it may be better to think about a Ram 2500 or another heavy-duty pickup.
Tow ratings top out at 10,450 pounds (for a regular cab, long bed 4x4, 5.7 V8 with the 3.92:1 axle ratio and 17-inch wheels), and range from 3450 pounds upwards. Most V8 models will be comfortable with a 5000-pound boat and a full load on board. Remember that the more options you add the less weight you can tow. Also, choosing those stylish 20-inch wheels will knock a significant amount off the tow rating. We'd go for the 17-inch wheels because we use trucks for towing things.
We found the Ram suspension works well for towing. With a significant trailer it still drops down in the rear (as all half-ton pickups do), but the extra lateral stiffness inherent in the coil/link design minimized the tail from moving side to side as the trailer pushed against it. Also, the electronic stability control system includes trailer sway control, a nice feature. Cooling systems appear up to the task, and towing mirrors are offered for pulling an eight-foot-wide travel or large box trailer.